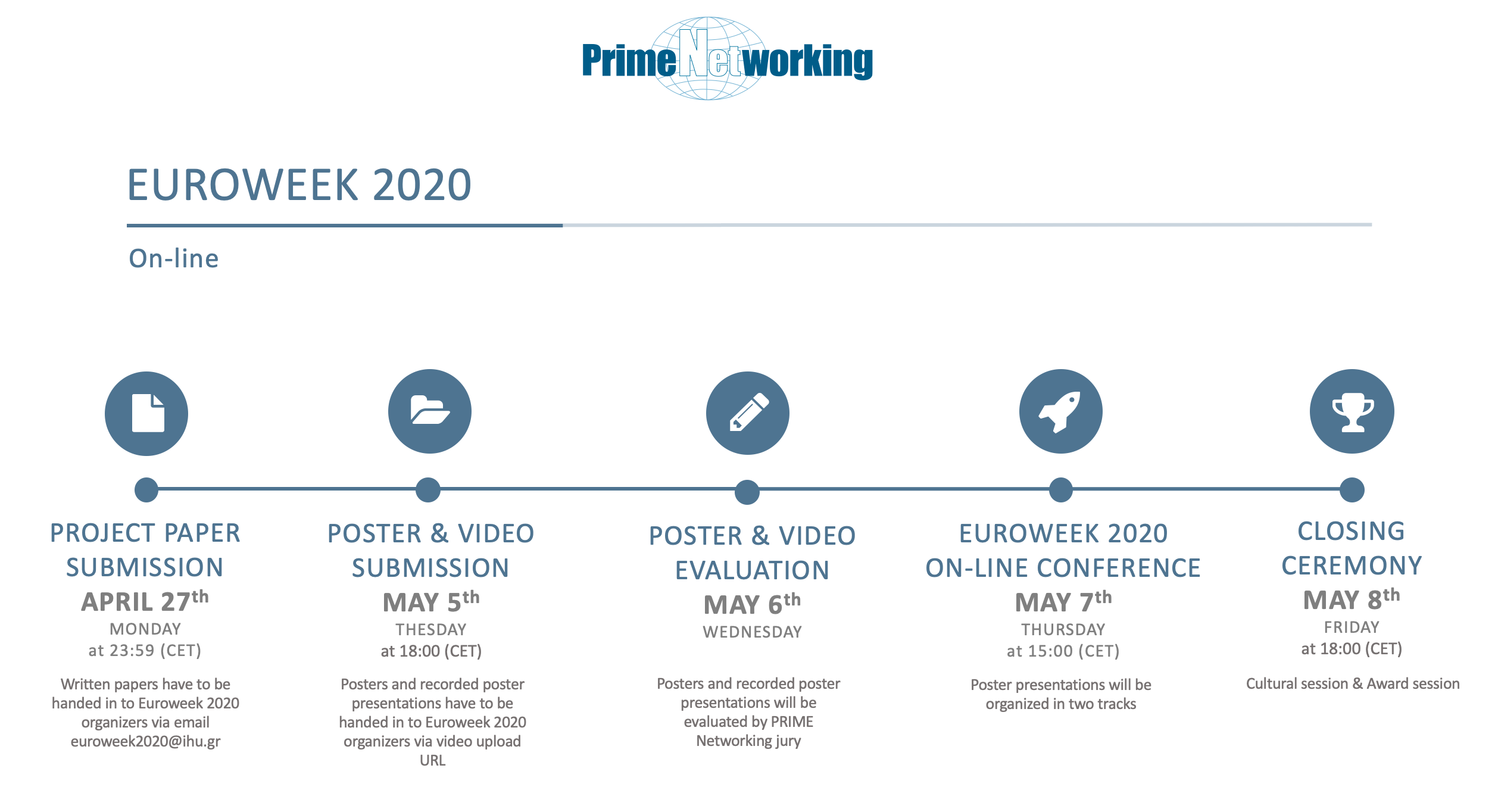 Bellow the Euroweek 2020 calendar:
1. Written papers 
Written paper has to be handed in by Monday, April 27, 2020 at 23:59 (CET)
Written paper has to be handed in via email at:

This email address is being protected from spambots. You need JavaScript enabled to view it.

Written papers will be evaluated by jury from International Hellenic University, Greece.
Don't forget to mention the paper's Number, like: Paper No 1
2. Poster & Recorded poster presentations
Poster & Recorded poster presentations (5-10 min) have to be handed in by Tuesday, May 5, 2020 at 18:00 (CET).
Posters has to be handed in via email at:

This email address is being protected from spambots. You need JavaScript enabled to view it.

Poster file name: Number of your project team, like: Poster No 1
Video upload URL: https://maiscloud.teiemt.gr/owncloud/index.php/s/WBV5Vh5KugLZPQl
Password for upload: it has already been sent by email
Video file name: Number of your project team, like: Project No 1 Please keep the Numbering as provided by Prime Networking (only projects 5 and 9 have been excluded).
Video format: mp4
3. Projects' Evaluation
Posters and recorded poster presentations will be evaluated by PRIME Networking jury on Wednesday, May 6, 2020.
4. Opening
Euroweek 2020 on-line conference Thursday, May 7, 2020 at 15:00 (CET)
During the Conference Recorded poster presentations will be shown.
Student teams have to be ready to Q&A session after video presentation.
5. Closing
The winners will be announced on Friday, May 8, 2020 at 18:00 (CET).
P.S. Zoom.us links will be sent before the Conference.
 Updated EuroWeek 2020 Calendar